Panzerkampfwagen VIII Maus
Ausf. V2 SdKfz 205

"All of those present found the "Maus" magnificent."
-Heinz Guderian
Unit
Faction
Germany
Class
Super-Heavy Tank
Warmode
1945+
Production
Cost
$60
Research Cost
$50
Factory
Prototype Base
Armor Base (Nuclear mode)
Properties
Armor
75mm (400)
Speed
20 km/h
The Maus is the Super-Heavy Tank for the Germans. It is the overall motto of WW2 Germany, "Slow, Expensive, and hard to build, but very powerful and highly effective".
Better for a defensive role rather than offensive due to its speed of 20 km/h, the Maus is quite similar to a mobile bunker. In large numbers, it is very efficient in dealing with enemy tank spam, due to its dual AT turrets.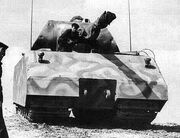 The Panzer VIII "Maus" was a super heavy tank built by Porsche. It reached a weight of nothing less than 188 tons and was armed with a triple-mounted arrangement in the turret, featuring a 12.8cm cannon, a 75mm L/36.5, and an MG-34 machinegun. With a top speed of 13 km/h on even ground, it had the ability to move at infantry pace, but would require an escort to defend against air or infantry. With its 220mm frontal armor and a 45* slope, the Maus is also the heaviest (built) AFV known today.
Pros and Cons
Edit
+highest dps against other class 5 heavies.
+A secondary 75mm further increasing this tank's ability to fight enemy tanks.
-Slowest unit in the game at 20 km/h.
-Due to a low speed and a lack of an MG, this tank is somewhat vulnerable to enemy infantry.
-Despite a near-mythical legend, the armor is only as strong as any nation's super heavy tank's armor.
| Weapon | | | | | | | | | | |
| --- | --- | --- | --- | --- | --- | --- | --- | --- | --- | --- |
| Adv.large cal. AP shell | | 542 | | 217 | 108 | 54 | 27 | 22 | | 500m |
| Weapon | | | | | | | | | | |
| --- | --- | --- | --- | --- | --- | --- | --- | --- | --- | --- |
| Adv.med.cal. AP shell | | 338 | | 56 | 28 | 23 | 14 | 9 | | 450m |